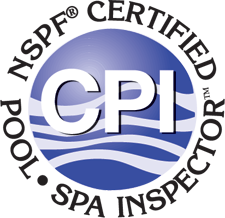 Barry Adair is a National Swimming Pool Foundation (NSPF)
Certified Professional Inspector CPI™ # 75-221486
Certified Professional Operator CPO® # 75-221486
Call 972-487-5634 to order your Pool-Spa Inspection
Isn't a few moments of you time worth avoiding a lifetime of sorrow?
Please don't allow the joys of owning a pool or spa turn into a tragedy.
These articles are a MUST READ for all Pool and Spa owners and users.
Reported Death, Severe Neck Injuries Prompt Recall of Banzai Inflatable Pool Slides Sold by Walmart and Toys R Us, https://www.cpsc.gov/cpscpub/prerel/prhtml12/12174.html
US Consumer Product Safety Commission Pool & Spa Safety Guides

Electrical: https://www.mikeholt.com/files/PDF/Pooldownload.pdf

Pool Code by state: https://nspf.org/en/Resources/News_StateCodes.aspx
TX: https://www.dshs.state.tx.us/poolspa/rules.shtm
U.S. Consumer Product Safety Commission
| | |
| --- | --- |
| Office of Information and Public Affairs | Washington, DC 20207 |
---
FOR IMMEDIATE RELEASE
May 26, 2011
Release #11-230
Recall Hotlines: See listing below
CPSC Recall Hotline: (800) 638-2772
CPSC Media Contact: (301) 504-7908

Eight Manufacturers Recall Pool and In-Ground Spa Drain Covers Due to Incorrect Ratings
Covers Pose Possible Entrapment Hazard to Swimmers
WASHINGTON, D.C. - The U.S. Consumer Product Safety Commission, in cooperation with the firms named below, today announced a voluntary recall of the following consumer products. Consumers should stop using recalled products immediately unless otherwise instructed. It is illegal to resell or attempt to resell a recalled consumer product.
Name of Product: Pool and spa drain covers
Units: About 1 million
Manufacturers: A&A Manufacturing, of Phoenix, Ariz.; AquaStar Pool Products Inc., of San Diego, Calif.; Color Match Pool Fittings, of Surprise, Ariz.; Custom Molded Products, of Tyrone, Ga.; Hayward Pool Products, of Elizabeth, N.J.; Pentair Water Pool and Spa, of Sanford, N.C.; Rising Dragon USA, of E. Sweetwater, Tenn.; and Waterway Plastics, of Oxnard, Calif.
Hazard: The recalled drain covers were incorrectly rated to handle the flow of water through the cover, which could pose a possible entrapment hazard to swimmers and bathers.
Incidents/Injuries: None reported
Description: The recall involves various pool and spa drain covers that can be identified by the manufacturers' name and model information listed below.
Sold through: Independent distributors to professional pool and spa builders and installers.
Manufactured in: United States and China
Remedy: Pool owners/operators and consumers who have one of the recalled pool or spa drain covers should immediately contact the manufacturer to receive a replacement or retrofit, depending on their make and model. Except for kiddie pools, wading pools and in-ground spas, retrofit or replacement of installed covers are not required in pools with multiple drain systems or gravity drainage systems or for covers installed before December 19, 2008.
Consumer Contact: For additional information, consumers should contact the Drain Cover Recall Hotline toll-free at (866) 478-3521 any time, or visit the Drain Cover Recall website at www.apsp.org/draincoverrecall. Consumers with drain covers from Waterway Plastics should contact the firm toll-free at (866) 719-6044 from 9 a.m. to 5 p.m. PT, or visit the manufacturer's web site at www.waterwayplastics.com
Visit each firm's website for additional photos of recalled drain cover models. Not all models are shown below.
A&A
Aquastar
Color Match
Custom Molded Products
Hayward
| | | |
| --- | --- | --- |
| | | |
| Pentair "Starguard" | | Rising Dragon |
Waterway
---
The U.S. Consumer Product Safety Commission (CPSC) is still interested in receiving incident or injury reports that are either directly related to this product recall or involve a different hazard with the same product. Please tell us about your experience with the product on www.saferproducts.gov
Under federal law, it is illegal to attempt to sell or resell this or any other recalled product.
To report a dangerous product or a product-related injury, go online to: www.saferproducts.gov, call CPSC's Hotline at (800) 638-2772 or teletypewriter at (800) 638-8270 for the hearing impaired. Consumers can obtain this news release and product safety information at www.cpsc.gov. To join a free e-mail subscription list, please go to https://www.cpsc.gov/cpsclist.aspx.
June 03, 2008 10:05 AM Eastern Daylight Time
Permalink
To save a permanent link to this news, right-click the date and time (Ctl-click on a Mac) and choose the command to copy the link, link location or shortcut.
Pool Alarm Saves 9th Child from Drowning
Another Drowning Prevention Shows RJE Technologies on Course With
Mission to Make
Pools Safer
IRVINE, Calif. BUSINESS WIRE
Swimming Pool Alarm Systems manufacturer, RJE Technologies, announced today the 9th child has been saved from drowning by its SonarGuard pool alarm system. A Houston dad reported SonarGuard saved his 3-year-old daughter when she slipped into the pool while playing in the backyard. The parents were surprised that they never heard a splash or sound when she slipped in. The signature SonarGuard

"

ping

"

was all they heard.
Approximately 300 children under the age of five, drown each year in the U.S., according to CPSC. In most cases, an adult was supervising the child, and was distracted or didn't see (or hear) the child fall in the water. SonarGuard utilizes sonar technology and can detect a child immediately.
ASTM certified pool alarms have gained popularity with owners of public and private swimming pools. Additionally, state and city governments have addressed improved pool safety by passing legislation involving the installation of an ASTM pool alarm as well as other new requirements. To learn more about swimming pool legislation in your area, visit:
https://sonarguard.com/sonarguard-pool-safety-information/Default.aspx
About RJE Technologies
RJE Technologies manufactures and markets pool alarm systems in the U.S., Europe, the Middle East, Asia and South Africa. SonarGuard is the only ASTM "permanently installed" pool alarm system on the market, making it especially suitable for residential, commercial and public pools. Learn more about SonarGuard by visiting:
To learn more about Aquaguard, RJE

'

s consumer installed ASTM alarm visit:
www.aquaguard-pool-alarm.com
or call RJE Technologies at 949-727-9399.
Contacts
RJE Technologies
Corinne Zemla, 949-727-9399